Louis Vuitton Material Guide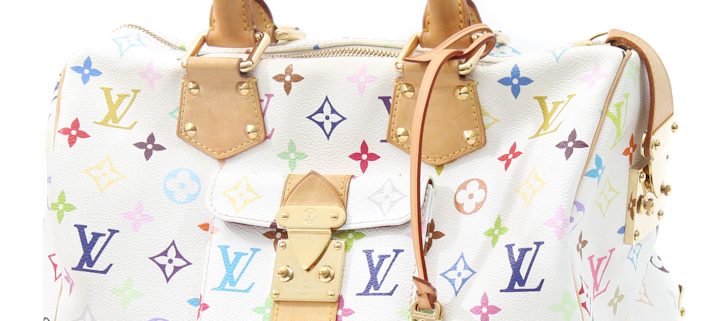 Louis Vuitton, a trunk-maker in Paris since 1854 built up his legend around travel by creating luggage, handbags and accessories that were as innovative as they were elegant. Over a century and half, the fashion house of Louis Vuitton has introduced many product lines. Some stay permanent,  some became discontinued.  I'm trying to compile a comprehensive list on materials used for Louis Vuitton handbags, wallets and accessories here. It takes time to gather all the information so while this Louis Vuitton Material guide is being completed, it will have the TO BE CONTINUED note in the end:).
---
---
Louis Vuitton Material
MONOGRAM CANVAS
Louis Vuitton's symbol of quality since 1896, The monogram canvas is lightweight, supple, strong and sturdy. Completely waterproof, it is highly resistant to surface scratches – perfect for travel and contemporary life style.
The Monogram Multicolor canvas is a sophisticated colouring of the famous Monogram canvas, with 33 silk-screened colors: a real technical achievement. A complete line of city bags, small leather goods and travel bags, Louis Vutton's icons and new products, declined in white or black background. Developed for the Spring Summer 2003 show, the Monogram Multicolor canvas is now a permanent line.
MONOGRARM MINI
The Monogram Mini canvas is a small and colorful version of the Monogram canvas that comes in five colors: beige, blue, cherry, blue tone on tone and khaki tone on tone. The Monogram pattern has been reinterpreted on a light, supple and textile canvas to create a casual, fresh and very feminine collection. The Monogram Mini canvas line has  been discontinued.
MONOGRAM SATIN
The monogram design was subtly enhanced with the addition of black satin weaved with metallic threads. This tone on tone pattern highlights a feminine collection of evening bags and accessories. Louis Vuitton Monogram Satin line has been discontinued.
MONOGRAM VERNIS LEATHER
Inspired by the spirit of Louis Vuitton's ready-to-wear collections, Monogram Vernis is a vivacious, sparkling, ultra-feminine line. Patent calfskin bags and accessories in a range of unusual, subtle colours highlight the famous Monogram canvas pattern.
DAMIER CANVAS
Designed in 1888, Damier canvas remains contemporary over the decades. Its geometric pattern and sober elegance have made it timeless. Since 1996, Louis Vuitton Offers a range of luggage and accessories in Damier canvas, for city or travel.
TO BE CONTINUED.
---
---
https://www.lakediary.com/wp-content/uploads/2013/06/louis-vuitton-multicolor-speedy-30-1-of-1.jpg
708
708
Yvonne
https://www.lakediary.com/wp-content/uploads/2021/03/lakediary-logo-3.png
Yvonne
2013-06-03 19:27:54
2014-08-25 17:19:44
Louis Vuitton Material Guide