Louis Vuitton Paris Champs-Élysées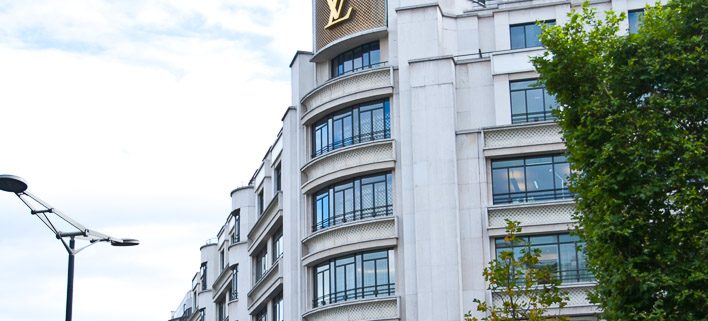 If you like timeless style and quality with a touch of luxury, then you have enough reasons to pay a  visit to Louis Vuitton Paris Champs-Élysées.
Standing tall and proud, Louis Vuitton is situated the left hand side of Champs-Élysées towards Arc de Triomphe. Expect a small queue to get in if you visit on a weekend. Summer day time runs long in Paris, the store opens until 8pm while day light is still plentiful. Handbags and wallets are usually 10 – 100 euro cheaper to buy from Louis Vuitton Paris and you can exchange your bags within 30 days in any Louis Vuitton stores in Europe. There's also a 12% tax refund for overseas shoppers.
I was in Louis Vuitton Pairs Champs-Élysées last week. Sipping champagne while picking out goodies was such a treat; better still, Louis Vuitton organised all my purchases to be delivered to our hotel on the same day so we were able to keep meandering on the streets of dreamy Paris for the rest of the day, baggage free.
Among my new additions, the Louis Vuitton Monogram Empreinte  Secret Long Wallet will be accompanying me the most. Louis Vuitton Monogram Empreinte leather line is pricier than the other monogram canvas lines but it is indeed one of a kind. I particularly like the amazingly rich feel of this supple, grained leather. Louis Vuitton Monogram is embossed on the grained leather, looking just like footprints in sand. The wallet is big with wrap around zippered closure. Inside, there are 10 card slots, 2 long pockets for notes and 1 large zippered coin compartment. With large enough capacity to hold my lip gloss and key, it can also be carried as a small clutch.
I also bought Louis Vuitton Artsy from Damier Azur line. Artsy is a classic, feminine bag with exquisite handcrafted handle and golden charm key rings attached to the bag. There are 6 open wall pockets and one large zippered pocket inside the bag. This IS my type of bag, at least I can pretend to be organised with so many pockets in my bag.
Did I need to buy another Louis Vuitton Neverfull bag? Maybe. Louis Vuitton Neverfull is cute and ever popular. I like its light weight, large capacity and practicality. A little over extremely large bags by now, I got both Artsy and Neverfull in MM size. Could have easily picked up more bags during that one trip to Louis Vuitton Paris Champs-Élysées, but 20kg luggage limit was bothering me. Might go back soon to get another one or two.
https://www.lakediary.com/wp-content/uploads/2012/08/louis-vuitton-flag-ship-store-001.jpg
913
708
Yvonne
https://www.lakediary.com/wp-content/uploads/2021/03/lakediary-logo-3.png
Yvonne
2012-08-03 13:30:45
2016-07-05 10:25:16
Louis Vuitton Paris Champs-Élysées