Designer Outlet Shopping Paris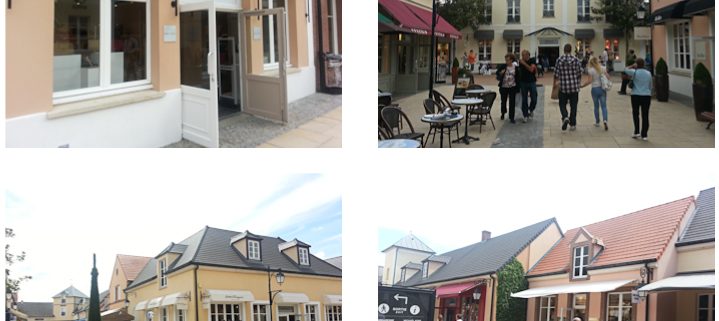 Designer outlet shopping Paris experience is quite different from shopping form Italy designer shopping outlets. High end designer shopping outlets are quite popular in Europe and I have been to a couple of impressive ones in Italy. Recently, I checked out the luxury designer shopping outlet around Paris area, just 30 minutes away from the center of pairs. La Vallee Village is only 5 minutes train ride from Disney Europe outside Paris.
How to get to designer outlet La Valle Village:
If you have some spare time  in Pairs apart from engaging the usual sight seeing activities, designer outlet shopping is fun and worthwhile. There's a shopping express shuttle bus service departing from Place des Pyramides near the Louvre Museum twice a day but we went by public transport,  just in case we wanted to leave early or stay longer. Public transport is very convenient in Paris so it wasn't a hassle at all to get there by suburban train RER. If you want to travel by RER, remember it is from any central PER A station to Val d'Europe station, the second last stop (the last one is Disneyland Paris). On Sundays, there's free return shuttle bus service every 15 minutes from the RER station to La Vallee Village. Do worry if there's no shuttle bus to take you there directly. It is only about 10 minutes stroll from the PER station any way. Once you walk out the RER Station, you'll see the Val D'Europe shopping mall. Walk through the huge shopping mall, you'll arrive at La Vallee Village – your Paris designer outlet shopping destination.
The Designer Outlet Shopping Paris Experience:
The Village is pleasantly charming with over 90 outlet boutiques offering reductions on the recommended retail price. Not quite like the Italian designer outlets I've visited before offering mainly the very high end designer like Fendi, Prada, Gucci etc, this shopping village has a mixed luxury brands such as Jimmy Choo, Burberry and Tods as well as the mid- range popular brands like Calvin Klein, Guess, Polo Ralph Lauren etc.
Discounts are usually around 30 -60% of the recommended retail price here. The last piece in stock could have a deeper discount. If you are lucky that it happens to be your size, you can save up to 80%. Normally I don't have such luck picking up bargains as I have a size 8 (Australian Size) frame and size 7 feet. Anything of that size would normally be out of stock from my past designer outlet shopping experience. So my expectation wasn't high before the Paris designer outlet shopping trip but I did have a list of brands that I wanted to browse in particular:
---
---
Jimmy Choo: Handbags and shoes
Salvatore Ferragamo: Comfortable, not so out there yet stylish shoes for daily office wear/functions
Reberto Cavalli: Funky dresses, pants and accessories
Missoni: Zig zaggy patterned sweaters and dresses
Dolce & Gabbana: Loud and colorful outfit and accessories
Versace: Bold patterns and accessories
Burberry: Clothing and handbags
Armani: Jackets and jeans
Michael Kors: Dressing watches
Tod's: Leather handbags
Nike: Socks and sports shoes
Lacoste: Comfortable and stylish walking shoes
Samsonite: Travel luggage
Valentino: Over sized leather totes
Charming village style:
The weather was excellent on the day I was there, making this Paris designer outlet shopping experience extra enjoyable. Offers from the shops didn't disappoint either. You could get a pair of Jimmy Choo shoes for as low as 150 euro, the iconic black patent Jimmy Choo Ramona Bag at an 800 euro discount. You could get a Roberto Cavelli Jacket (equivalent Australian Size 16) at 300 euro, discounted from 2500 euro or 99 euro for a Burberry light jacket for men with a retail price tag of 399 euro. Michael Kors dressing watches were marked as low as 115 – 149 euro.
Winter in Sydney generally doesn't get really cold; as a result it is extremely hard (for me) to buy good autumn/ winter clothes. My mission for this trip was to buy some high quality, good looking Autumn/Winter clothes at relatively bargain prices.  Long sleeve shirts, dresses, sweaters and jackets would be nice.
Did I buy anything?
Well, there were a lot for sale but it was hard to buy anything at the beginning. There wasn't anything I fancy in Roberto Cavalli or Missoni. The shoes in Jimmy Choo are mostly not my size, or my size but undesirable color. Samsonite didn't offer any better deals than normal shops outside the shopping outlet on their luggage. Lacoste didn't have any walking shoes on display.
Just as I was wondering if I would end up leaving empty handed, Guess store appeared in front of me. The store is big and busy so I went in. There were piles of casual clothing and the discounts were deep. I found a long sleeve shirt with wide collar and fitted waist line for only 9 euro (discounted from 79 euro). Just what I needed and what a bargain!  In Burberry store, I found a Burberry silk, pleated back short jacket for 150 euro, discounted from 550 euro, last one for my size. A Burberry sweater made of silk, cotton and linen for 150 euro, discounted from 750 euro, last one in stock and my size! Of course they went home with me.
It turned out to be a successful trip! I would certainly recommend all my girlfriends to do some Paris designer outlet shopping if they go to Paris. Usually there would be more promotion offers if you go between mid – July to mid – August. If you are planning to go, why not make the most out of your Paris designer outlet shopping trip! The choices are abundant in that area… Val D'Europe shopping mall next door is huge. You can find the usual European chain stores like Zara, H&M, Pull & Bear's there. If you don't find anything to buy, Disneyland is just one stop away!
https://www.lakediary.com/wp-content/uploads/2012/09/paris-shopping-outlet.jpg
530
719
Yvonne
https://www.lakediary.com/wp-content/uploads/2021/03/lakediary-logo-3.png
Yvonne
2012-08-08 12:24:41
2018-12-16 11:12:47
Designer Outlet Shopping Paris