I'm thinking about doing a boudoir photo shoot
I actually thought about doing a boudoir photo shoot for a long time. It's one thing on my to-do list, or maybe even a bucket list. I'm not particularly keen on photographs. I'm kind of a private person. My Instagram has been quite slow lately and I don't post on Facebook either. I'm not one of these people who know which is their "good" side of the face. Sure, I have a few nice portraits and a lot of travel images I've taken over the years, but boudoir photography is something else altogether.
Boudoir is very personal, and to be honest, kind of scary. I don't really like being photographed in a normal setting, so the thought of being barely clothed or in lingerie in front of a stranger will not come easy for me. I've seen a lot of boudoir images and I do like the look of them. And I do think I would enjoy being photographed … like one of your French girls… 🙂 Just need to gather the courage to actually do it one day.
I still have not decided if I want to be photographed by a man or a woman. Although, I am kind of leaning toward a male photographer at this stage. I think I would actually be much more comfortable doing those "sexy" poses in front of a man, rather than a woman. I think I'd feel more natural and confident. Also, I suspect men might be …hm, less judgemental. But that may well be just my opinion. It may come down to just finding a good photographer at the time I'm ready to do it. I do not want to book 12 months ahead. I will change my mind about 17 times before the session day. I am certain of that.
I actually have found a boudoir photographer in Sydney whose work I like. He has a diverse style. Some bright and airy images and some dark and moody pictures. I have not decided which I like more, so a combination of both would definitely be good. The bright images look really nice. especially if they are in black and white. A mental note: for these boudoir images to look nice I have to have really good makeup. I better look for a good makeup artist before the shoot. Or maybe he offers makeup and hair as part of the deal. I better check.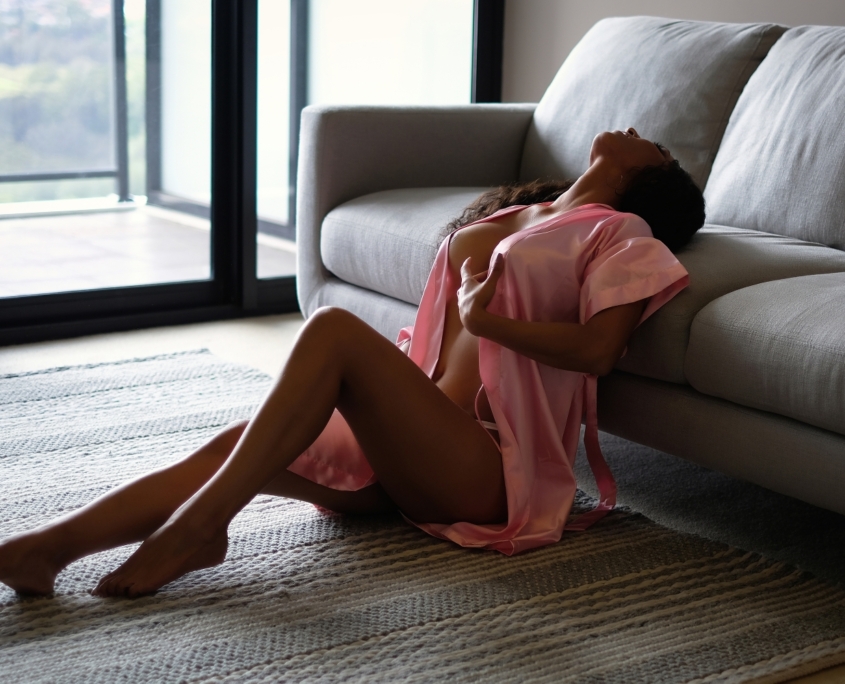 The dark and moody images on the other hand look really arty. They capture just the outlines and highlights of the body, which leaves some parts of it in the shadow. That's really nice. The mind then fills in the blanks. I really like that. It looks like some of the women he has on his website wear nothing at all. Hm… but with the dark and moody style, there are actually no naughty bits showing at all. Just a hint of naughtiness, but all well hidden in the shadows. I think that may actually be my preferred style.
It looks like he's shooting with natural light which I think is better than flash. I think pictures taken with a flash feel unnatural. Or maybe he is using flash but is skilled enough to make his boudoir images look natural. Either way, I like his work. And I will probably contact him sometime next month. Hopefully, he's not too busy and can get me a session within a few weeks. I really don't want to wait months for a boudoir session. It's hard enough to decide to do it, but once decided, I want it done as soon as possible. I am not a patient person. That may well be one of my faults, but who cares. Too late to try and reshape my personality.
Now for the important part. How much should I budget for these pictures? What should I get? Just the images or maybe get a nice boudoir photo album in leather. Maybe a framed picture on the wall? Hm… no, I don't think I'll like to look at myself hanging on the wall. I'm not the type, but an album is probably a very good idea. I can put it away and only look at it when I really feel like it. I really like to touch photographs so an album would be a great idea. I have lots f albums from my travels. It's so much nicer to open a book and enjoy the photographs than just browsing them online. It's just not the same thing. I think it's settled. If the price is reasonable I will get a 10×10″ boudoir album in leather. And a bunch of images I can post on Instagram. Why not?
I will have to go shopping some time soon to get a couple of pieces of lingerie. I have some old stuff, but I think I should use this opportunity to spoil myself a bit too. I'm thinking at least 2 pairs of 2 piece sets and maybe a bodysuit. The 2 piece suits should probably be in red, pink or black. Maybe white. They do look good too. I have to research that topic thoroughly. And the bodysuit should be black. How predictable. Again, who cares. I think it's time to google lingerie for a boudoir photoshoot. That will keep me occupied for the next few hours, or weeks. And off I go…
https://www.lakediary.com/wp-content/uploads/2022/05/Boudoir-photography-sydney-10.jpg
409
1080
Janusz
https://www.lakediary.com/wp-content/uploads/2021/03/lakediary-logo-3.png
Janusz
2022-05-02 22:53:21
2022-05-08 13:54:55
I'm thinking about doing a boudoir photo shoot