6 Must Do Activities While in the Kimberley
Are you a tourist exploring the rich sights of Australia and found yourself at a loss as to what to visit first in the Kimberley? Or perhaps you're a native looking to indulge in some domestic tourism, and you're itching to see what the best Kimberley tours can offer you in terms of exciting stuff to do.
Whichever the case, you are definitely spoiled for choice, as this part of Western Australia is host to a huge number of must-do activities that you and your family are sure to enjoy, no matter your tastes or budget. What's more, it's also got its own fair share of historic and awe-inspiring sights to explore!
With that said, if you're on a tight schedule or there's just too much on your itinerary, you may find it difficult to choose just which must-do activities in the Kimberley you're going to actually enjoy. This could cause you a lot of stress and wasted time.
In order to help you prioritise and manage your time in the Kimberley better, we've assembled all the top activities in the Kimberley into the list below.
Ride a camel on one of the most picturesque beaches ever
The Kimberley is home to Cable Beach, one of the most picturesque beaches that you'll ever find anywhere else. Not only is it a great location to snap your photos and enjoy the sun, but you can also treat yourself to a camel ride along the coast. Ride one of these magnificent beasts of burden and enjoy the beach as evening slowly unfolds, allowing you to enjoy the sunset and stars like never before.
Fly over the Martian-like landscape of the Bungle Bungle Range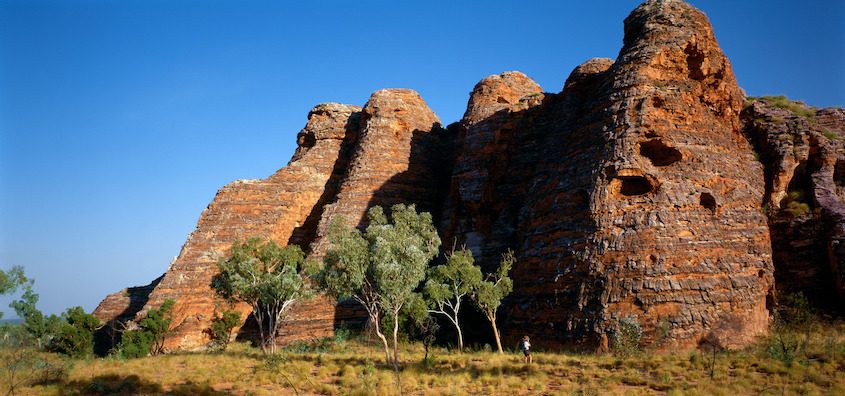 If you're looking for a surreal, out-of-this-world experience, then hop on a scenic flight and enjoy the eerie alien landscape of the Bungle Bungle Range. This gigantic mountain range is known for its unique beehive-shaped peaks of karst sandstone. What's great about the Bungle Bungle Range is that it's been formed completely by Mother Nature's own hand and not by some avant-garde modern art sculptor looking to make a statement. Definitely consider this if you're itching for something new and exciting.
Marvel at the Horizontal Falls
If you've seen one waterfall, then it's reasonable to assume that you've seen them all. After all, it's just a lot of water falling down someplace high, right? Well, what about a waterfall that goes horizontal? This is exactly what the Horizontal Falls are in the Kimberley, specifically the Talbot Bay area. Thanks to a unique island formation and erratic, crazy tidal currents, the water flowing through this specific series of parallel coastal gorges make for some furious, fast-flowing water that truly lives up to its name—a waterfall that's lying on its back. To experience it in the best way possible, book a sea plane or jet boat to it.
See how pearls are farmed in the Willie Creek Pearl Farm
Pearls are one of the most gorgeous and naturally-occurring gems in the world, and if you've ever been curious about them, then you can learn all about it firsthand at the Willie Creek Pearl Farm. Located just a few kilometres from Broome, the Willie Creek Pearl Farm will give you a personal guided tour about all the ins and outs of the modern pearl industry. Their staff can walk you through the entire farming process—from seeding, harvesting, and finally to grading the pearl itself. Make your Kimberley trip an educational one with this particular activity.
Dive in the Rowley Shoals Marine Park
Are you into diving and want to see the underwater wonders of the Kimberley? If so, then you should definitely find the time to fit visiting the Rowley Shoals Marine Park in your itinerary. Travel just some 260 kilometres from Broome and you'll be treated to one of the best diving experiences ever. With three coral atolls to its name—specifically the Mermaid Reef, the Imperieuse Reef and the Clerke Reef—you'll be treated to marine life that you can only see in Australia and nowhere else. You'll also come face to face with some of the more well-known aquatic fauna, such as manta rays, whales, sea turtles, and dolphins. Giant shellfish and clams will also be greeting your underwater jaunt. If you just want to relax and chill, though, then you're welcome to simply beach-comb, or watch the whales and dolphins frolic from the safety of a chartered boat.
Shop for souvenirs in Ganada
No trip to Australia or to the Kimberley is ever complete without nabbing your own share of souvenirs, and Ganada is home to the best that you can ever buy. Travel directly to Chinatown, Broome and you'll be spoiled for choice with only the most authentic and high-quality souvenirs that feature aboriginal Australian culture in prominence. They have everything from locally-made art and crafts, such as books, paintings, scarves, and T-shirts, to something a bit more exciting like boomerangs and didgeridoos.
The Kimberley is the spot to be in West Australia
There are so many interesting activities in the Kimberley that trying to include them all in your itinerary would be nigh impossible. However, if you're really pressed for time and you want to experience only the absolute best that this chunk of Australia can offer, then the above-listed activities should serve you well. Just remember to hydrate frequently, as Australian weather can get quite hot. Enjoy!
https://www.lakediary.com/wp-content/uploads/2019/06/Horizontal-Falls.png
567
845
Yvonne
https://www.lakediary.com/wp-content/uploads/2021/03/lakediary-logo-3.png
Yvonne
2019-06-05 18:39:19
2019-06-05 18:48:44
6 Must Do Activities While in the Kimberley