Danke Schön (thank you) is the only German I could speak. It pays to be polite… most of the time. You see, it's always good to learn saying "thank you" first, even before "hello". When you say "hello" to someone in a foreign country, people might expect you to say something more after the initial greeting. When you have nothing else to say, it's kind of embarrassing. If you can only say "thank you", people would understand that you are just a tourist trying hard to speak their language.
We hired a car to drive around and see more of Germany. Before I forget where we went and get all the places and pictures mixed up, I'd better write down the route that we drove through in Germay: Kolgne – Unna – Dortmund – Warburg – Gottingen – Leipzig – Chemnitz – Dobeln –Dresdon.
There are some places I really want to write a bit more about when I'm more settled. Here's just a brief summary of Germany trip while I'm getting myself organised.
Cologne
Cologne was talked about in this blog: Cologne Highlights.
Unna
Unna is a very pretty, peaceful German town with cute sculptures on the street.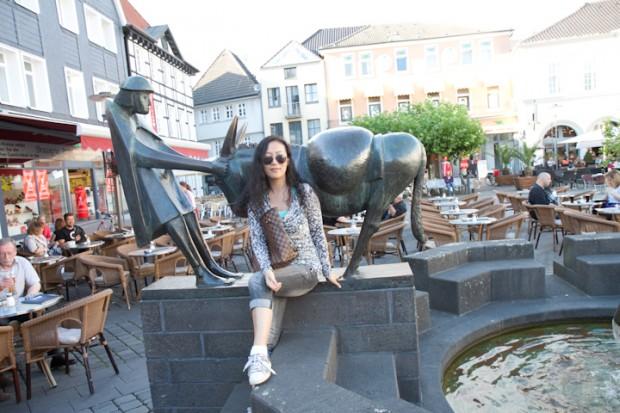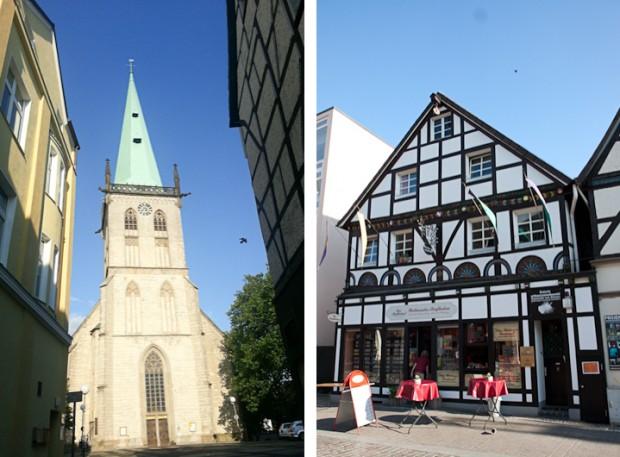 Dortmund
We went to Dortmund to catch up with our old friends. The first place they took us was this lake, where it used to be a factory. The only thing remains from the factory today is this huge machinery. Kind of cool huh?
This lake used to be a factory.
Warburg
Warburg is oh so pretty, yet an even more peaceful small town. So peaceful that I felt like disturbing it by simply being a visitor. We stopped by Warburg on a Sunday. The whole town stopped for Sunday mass. There was not even one moving car on the street. Every body was at the mass near the church. Nobody, literally, nobody was on any other street.
See what I mean? Quiet quiet streets everywhere else on Sunday.
Gottingen
What can I say? Most of German towns are just so picturesque. We stayed in Fottingen for a couple of days and went a bit multinational … from a grand Vietnamese restaurant (always empty, took 45 minutes to serve some bland pho soup) to expensive steak in old town center to a busy African restaurant served hearty food. The African restaurant won our final vote.
Leipzig
First German town we visited during this trip that used to be part of Eastern Germany. Fairly large in size, Leipzig boasts a few fairytale looking buildings, big shopping center and a bit hmmm… chocolate.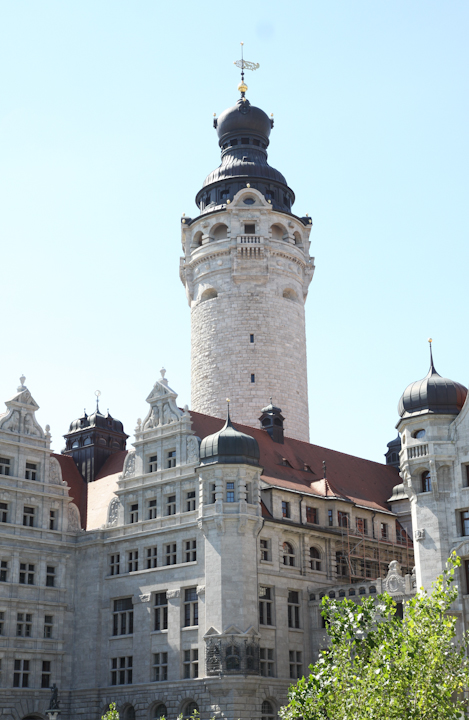 Chemnitz
Sorry karl, your home town is the least attractive German town I've visited. There are ugly, grey, square buildings and huge smoking chimneys everywhere in the city. I couldn't help but feeling sorry for these beautiful, run down old period buildings that are about to collapse. Karl Marx's gigantic head sculpture scored the top spot on our turist attraction list.
Street in the city center of Chemnitz. Though not pretty, it is clean. Definitely not popular with tourists.
Dobeln
Dobeln is a gem. I have so much more to say about this wonderfully beautiful town later on. But for the time being, have a little sneak peak of the photos of Dobeln… Isn't it the prettiest?
Dresdon
Having a long history as the capital and royal residence for the Kings of Saxony, Dresdon is grand. That was the first time I had this one shoulder top on, since I bought it in a Sydney boutique in 1999. Somehow it managed to avoid being thrown out, donated or gifted over the years and ended up in my suitcase to Europe. Now it's back to life!
Shortly after this gorgeous trip to Germany, we are already making plans to go back next year. When I do visit again, for sure I'll have lots of bratwust and hopefully still remember how to say: Danke Schön!
---
https://www.lakediary.com/wp-content/uploads/2012/11/dresdon-yoga-1-of-1.jpg
480
720
Yvonne
https://www.lakediary.com/wp-content/uploads/2021/03/lakediary-logo-3.png
Yvonne
2012-12-18 10:49:27
2018-08-29 21:37:30
Danke Schön!