Many many years ago, I drove two of my girlfriends to the Canberra flower show. Like all girls who love flowers, we took lots of photos with those beautiful flower blossoms.  When we got back to Sydney and looked at the photos together, someone pointed out: "Yvonne, you have the same smile in every photo, with mouth widely open." Yes, I was trying to do the right thing – smile for the camera. But it wasn't natural and it looked so awkward!
Nowadays as a photographer, I always let my clients know that, you don't have to force smile to look good in photos.  If you want to project a friendly image, just think about something that makes you happy and you'll smile naturally.
Of course it's never that easy to look natural in front of the camera and I'm always a work in progress.
We had this quick impromptu shoot early last month during sunset. The sun was going down quickly and I had 2 minutes to get dressed.
My hair was messy and I had zero makeup on my face. But it didn't matter, because hat + sunglasses = best hair & makeup. With that, I was ready in 2 minutes. Who wants to waste time on makeup!
Invest in good hats and sunglasses and you'll always look somewhat stylish.
I hope you're all having a fabulous time with your loved ones.
Here's to a healthy, prosperous & very happy 2016!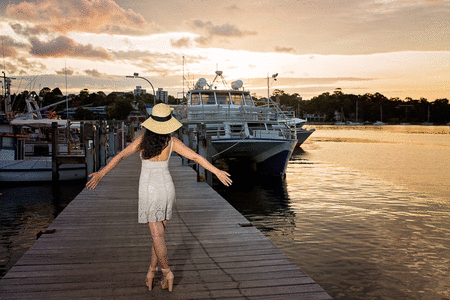 ——————————————————————————————–
Photos: CandidTown Photography
Crochet dress, Ray Ban sunglasses, Dolce & Gabbana handbag and a large floppy hat
https://www.lakediary.com/wp-content/uploads/2016/01/happy-new-year-5.jpg
1200
800
Yvonne
https://www.lakediary.com/wp-content/uploads/2021/03/lakediary-logo-3.png
Yvonne
2016-01-02 12:10:15
2016-01-02 12:19:49
Happy 2016!