Winter Office Outfit Ideas
These days every employee of any big or little company knows what the dress code is. And this concept turns into a huge issue when a businesswoman has to decide what to wear to work in winter.
Dropping temperatures, lack of sunshine, winds, snows, and rains make a sweater with deer or a duvet the perfect outfits of the season. Unfortunately, office dress code doesn't allow styles like these. And here a lady is facing the challenge: how on Earth can I stay smart and on trend while keeping warm and cozy?
Luckily, today it's quite easy to prevent winter weather send you into a style rut and create fantastic stylish silhouettes of office outfits.
So, what to do? How to share the focus between staying warm and looking on-point? Let's figure it out and share some winter office outfit ideas!
Knitted Dress
Winter dresses for work are an ideal option: they're warm enough for falling temperatures and smart enough to fit in the office dress code. A wide range of silhouettes, fabrics, and textures are available on the market today. So, choose your favorite, add an accessory (like a brooch or a colorful scarf) and enjoy your awesome office outfit.

Wide Leg Trousers
Are you a fashionista? In this case, wide leg trousers paired with a striped blouse is definitely your cup of tea! The only rule to follow: if trousers are monotonous – the upper is patterned; if trousers are checkered, polka-dot, striped, and so on – the upper is as simple as possible.

Coat Games
For a sleek work-to-weekend ensemble, opt for a cool coat of bold color, with an interesting print, or with some outstanding details. Play with combinations: pair the coat with straight jeans, classic trousers, or a pair of breeches.

Maxi & Midi Skirts
Style an oversized knit sweater with a midi or maxi folded skirt and ankle-high boots, don't forget about a button-down underneath, add some accessories – and voila: your winter office outfit is ready!
A Sweater over a Shirt
Throw on a cozy black sweater over a classic white button-down shirt and adjust the outfits with maroon jeans or trousers for a daily winter office uniform.
Office Suit Twists
Spice up a typical suit; give it a cool spin by styling it with a simple tee, in different colors and fabrics combinations. Add heels, and you'll be good to go.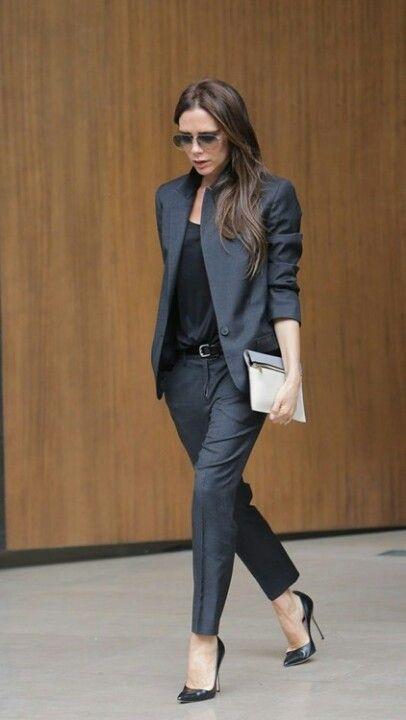 Pencil Skirt
Surprisingly, but a pencil skirt can become your style resolution during the cold season. It goes down, highlighting the beautiful lines of your body, it's the perfect knee-length. Also, with the same skirt, you can look different every time due to changing a blouse or a shirt.
Advice: buy a skirt made of stretch fabric with a warm lining, as it won't feel hot in the office as well as cold winds outdoor won't be able to get under the skirt.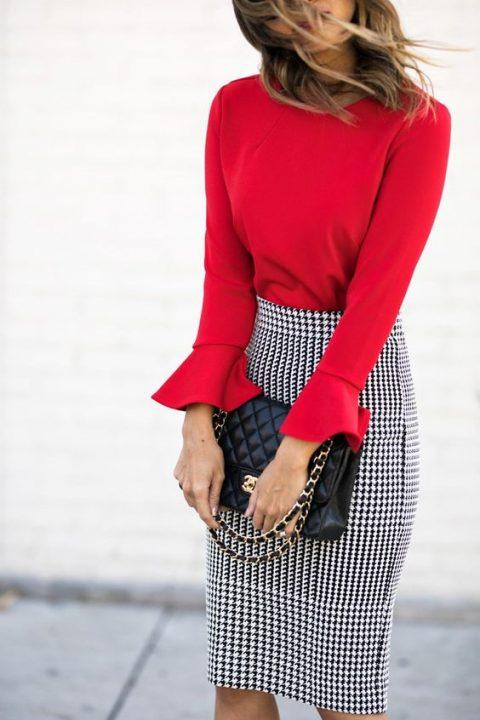 Add Colors
In winter, the crowd resembles a gray-black mass without any single pop of bright color. Be bold and choose a colorful side: beginning with your coat and finishing with accessories. As for the office, try to dilute the image with clothes of milky, pink, green, and maroon colors. If you're brave enough, experiment with red – show the colleagues that the dull weather hasn't enslaved your optimistic attitude.
Experiment with Layering
Remember that layering is the key when it comes to your ideal office uniform for the winter period. Combine a blouse with a warm coat, jacket or waistcoat; wear a monotonous dress with a bright cardigan over it, tied with a narrow belt. As soon as you learn how to create multi layered outfits, you will find out that there are much more winter office options than you could even imagine.
Borrowed From the Boys
And, finally, a tricky hint for girls: style a menswear-inspired blazer and trousers with your perfect super-warm sweater underneath. A pair of sleek stiletto boots will create a win-win masculine-meets-feminine contrast, which looks so sexy but feels so comfy.
https://www.lakediary.com/wp-content/uploads/2017/12/Screen-Shot-2017-12-28-at-10.07.01-AM.png
1000
1208
Yvonne
https://www.lakediary.com/wp-content/uploads/2021/03/lakediary-logo-3.png
Yvonne
2017-12-28 10:34:24
2017-12-30 11:01:00
Winter Office Outfit Ideas