I love the amount of great spots in Australia. This time, we're going wider afield than usual. Instead of sticking to the east coast, we're going to the other end. Broome is a coastal town and area in the Kimberley, the north-west region of Australia. The region is known for rugged wilderness well worth exploring and Broome is no different. But that's not all it has to offer. Let's take a look at this sandy, historically packed part of Oz.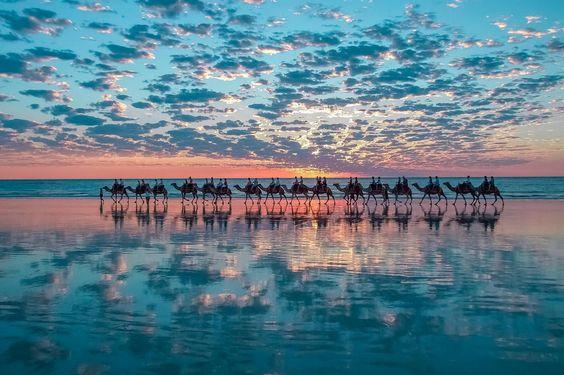 Photo source: Pinterest
Cable Beach
Indeed, one of the best things that Broome has to offer over other great destinations in the Kimberley is its fantastic beaches. In particular, Cable Beach is a huge 22km stretch of beach that's perfect for a most serene stroll. Camel rides are popular to travel this huge stretch. Broome holiday advice from Best of The Kimberley is one of the places you can check for when the beach is in vacation season.
Horizontal Falls
Of course, anywhere in the Kimberley is going to have some rough terrain that has to be seen to be believed. Horizontal Falls is one such place. Two immense gorges create an amazing effect. The rushing tide funnels through a line in immense pressure, creating the visual effect of horizontal waterfall. This is best seen from above and there are plenty of planes willing to take you over for a good price.
Malcolm Douglas Wildlife Park
Of course, if it's the wild you want to see, then you want to see some of the fauna as well. Malcolm Douglas Wildlife Park, named after the much loved documentary maker, is just fifteen minutes from town. As well as a host of crocodiles moved from its old spot on Cable Beach, it has hundreds of kangaroos, rare dingoes and colorful birdlife.
Short Street Gallery
Not all the wonders of Broome are entirely natural, however. There's great man-made culture on display as well. The Short Street Gallery in particular is well worth a visit. Here you'll see the largest and oldest maintained display of indigenous Australian and immigrant art. There's all kinds of styles displayed. Aboriginal, Malay and Japanese history living in a constantly revitalizing host of exhibitions.
Willie Creek Pearl Farm
Of course, one of the most important parts of history in Broome is the town's pearl industry. This carefully farmed luxury has been a cornerstone of industry and economy. You can see the history up close in the Willie Creek Pearl Farm.  Also recommended is visiting the Japanese cemetery. Here the history of hundreds of pearlers' contribution to the town is honored.
Sun Pictures Cinema
Of course, while you're enjoying the town, you might want to take some time to catch a movie at the cinema. There are few better cinemas in the world for film fans to see than Sun Pictures. The longest running outdoor cinema has been entertaining with film and live shows for over a hundred years now. It hasn't stopped today, either. You'll not experience such a lively outdoor cinema so rich in history anywhere else in the world.
https://www.lakediary.com/wp-content/uploads/2016/04/broome-cable-beach-camel-rides.jpg
375
564
Yvonne
https://www.lakediary.com/wp-content/uploads/2021/03/lakediary-logo-3.png
Yvonne
2016-04-20 08:59:55
2017-03-17 14:33:48
White Sands And Wild Landscapes In Broome