Brazilian buffet in Sydney has been on my must-eat list for a while. Yes, in case you wonder, I do have a must-eat list.
The perk of living in Darling Harbor area is that there are always lots of places to eat out, including one Brazilian Buffet restaurant. We went to Braza Darling Harbor for Sylwia's birthday last Sunday, during the Australia Day long weekend.
---
The restaurant setting is very pleasant and we were sitting at one of the tables outside. It was an otherwise rainy and gloomy looking day but good company, nice food and plenty of alcohol did the trick. Everybody was happy and upbeat. A couple of dishes later, I started to regret having had breakfast that morning.
OK. Let's do lunch.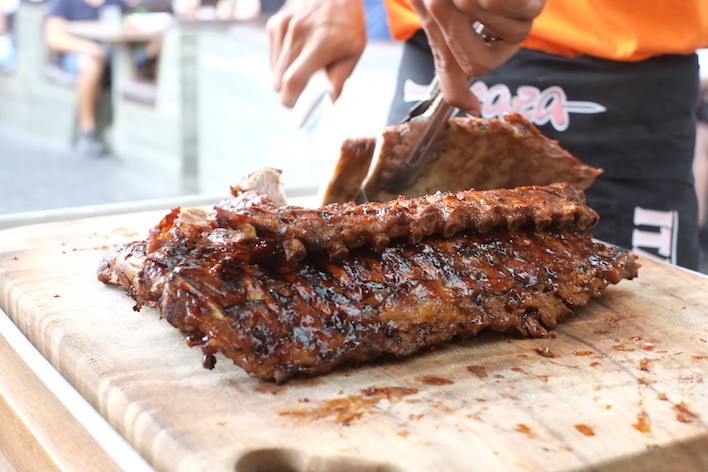 If you go… There are a few things you need to know about Brazilian Buffet in Sydney:
1. Those are not colorful salt and pepper shakers.
They are indicators to the waiter so that they know whether or not to continue serving you food.
Green end on top means: I'm hungry. Bring it on!:)
Both ends lying on the table means: I'm almost done, slow down.
Red end on top means: No more for me, thank you.
2. Wait for BBQ meats come to you & order your side dishes.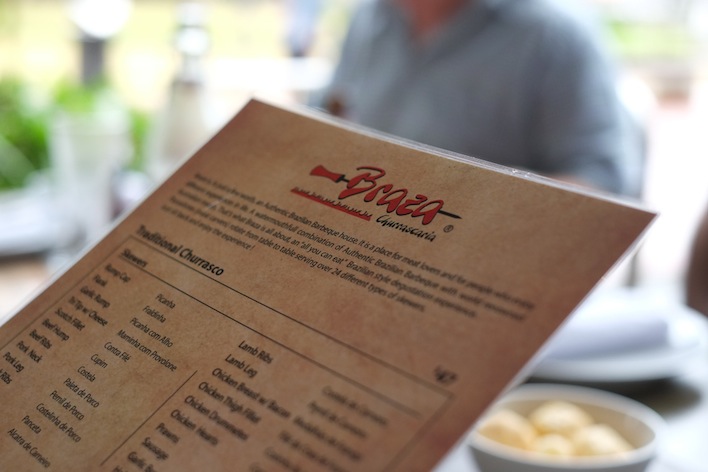 There's a menu, which shows you the BBQ selection and side dishes. Large skewers of meats and racks of ribs will come to your table repeatedly but you need to order your own side dishes, as many as you wish. Have all you can eat, for $47. That's the deal.
3. It's not all about meat.
There are other dishes like fish of the day wrapped in banana leaves, BBQ peeled prawns, pineapple, chicken hearts on skewers and exotic cheese too. Eating hearts somehow sounded cruel too me but out of curiosity, I tried chicken hearts the first time. They are actually quite tasty (we carnivores are terrible creatures).
4. Occasionally you get the salty batch.
The foods there are generally very tasty, especially at the beginning when you still have a good appetite. But be mindful of the large chunks of salt on the surface of the meat. It can be really salty depends which part you get, unless you love salt.
5. Larger Pure Blond.
Braza has a very impressive bar and there's a large selection of drinks to choose from. If you are cheap drunk like me, getting drunk after one glass, share your Pure Blond with someone else. Braza serves larger bottles of Pure Blond. They are 700ml bottles not your average 355ml ones.
Top pick of the day:
"What did you like the most after eating for hours?" You might ask. If I ever go again, I'll have these for sure:
The mixed citrus, rocket leaves, beetroot and nuts make it a perfectly delicious and healthy dish. Did I say it's not all about meat?
Those cooked pineapples are delightful.  "YES please" was our only reaction every time they came around.
Very tasty and not tough at all.
I was looking forward to pork ribs. But the waiter cut me a very small piece, which mainly consists of 2 chunks of bones. They never came over for the second round.
The meat is juicy and tender.Tastier than pork leg in my opinion.
Refreshing, crisp with just the right amount of sweetness.
So that's all I can say about my Brazilian buffet experience in Sydney. Now if you excuse me, I'm going out for lunch.
---
https://www.lakediary.com/wp-content/uploads/2013/02/braza-001.jpg
472
708
Yvonne
https://www.lakediary.com/wp-content/uploads/2021/03/lakediary-logo-3.png
Yvonne
2013-02-02 13:04:04
2014-08-25 23:11:19
5 Things You Need To Know About Brazilian Buffet In Sydney