Plan A Food And History Weekend In Malaga
If you are obsessed with the conviviality of Spanish food and believe that tapas is the best kind of food that you could find, then maybe you should plan a trip to Spain. There's no denying that tapas have a lot to satisfy most hungry mouths, from the diversity of tastes and textures to the friendly atmosphere that they can create, so the best way to embrace your love for tapas is to go and try them in their natural environment, in Malaga where the country eats the most of these delicious little dishes. So get your best sunglasses, and prepare yourself for a taste of Malaga and its culture.  
Getting There
While Malaga is the fourth busiest airport in Spain, it is unfortunately only connected to European flights. If you are a long-distance traveler, you will probably need to look for a connecting flights. Thankfully, most long distances flights land in London, Zurich or Paris in Europe, and these airport offer direct connections to Malaga, so your trip shouldn't be too difficult to organize. Malaga is part of the EU zone, consequently EU travelers, US and Canadian travelers won't need any visa authorization to get there – at least for holidays of less than 90 days. While you will find public transport from the airport into the most local towns, most holidaymakers prefer to organize a taxi ride with a local company such as booktaximalaga, as this is the easiest way to get to your hotel or your rented accommodation. As late flights are not uncommon, you probably want to relax in a cab before getting to your hotel and going to bed: This is better than trying to find your hotel at night and on your own!
Typical Malagan Cuisine
The traditional Malagan cuisine follows the same principles than you would expect from any Mediterranean country: Plenty of fresh fruit and vegetables, fresh fish, good quality olive oil, and delicious wines, without mentioning the daily-baked bread that is almost mandatory in the south! But Malaga has also very typical dishes from the region, like deep-fried fresh fish, or pescadito frito, porra which is a soup consisting of tomato and bread, and the ajoblanco, an almond and garlic version of the famous gazpacho soup. Almonds are an essential part of the Malagan cuisine, and you find it everywhere from soups to cakes. You will also find fun wine tours in Malaga, especially a wine and tapas cycling tour for the foodies who love to stay fit.
Don't Forget The Historic Pause
Finally, once you've tasted the delicious food and drunken the best Andalucian wine, it's time to embrace the cultural side of Malaga. Indeed, as the birthplace of Picasso, you will find that the place has a lot to offer, especially with a museum entirely dedicated to the painter's life. If you are after a historic immersion, plan time for a visit to the Alcazaba fortress, which was built by the Moors in 1040. The fortress is built on ancient Roman site, unfortunately the Moors have repurposed the Roman stones so the nearby Roman theatre needs renovation work to show its true splendour. It's interesting to know that the term Alcazaba comes from the Arabic al-qasbah, which is the original name of the building. It means the citadel.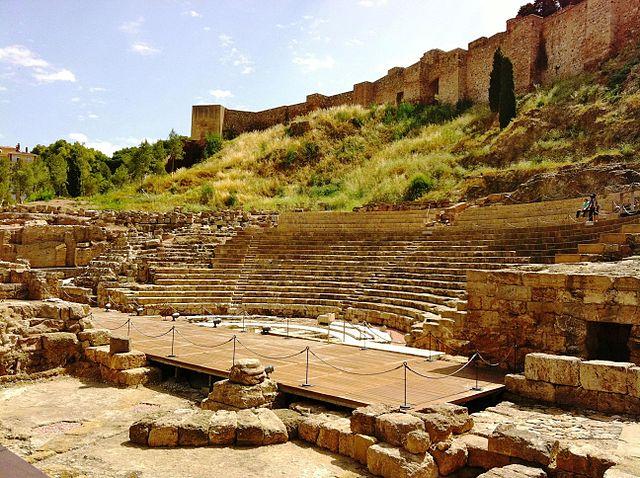 https://www.lakediary.com/wp-content/uploads/2017/02/640px-Roman_Malaga.jpeg
478
640
Yvonne
https://www.lakediary.com/wp-content/uploads/2021/03/lakediary-logo-3.png
Yvonne
2017-02-24 13:42:01
2017-02-24 13:42:16
Plan A Food And History Weekend In Malaga