True Beauty To Be Found In Puerto Rico

image source
Many people may not realize that when you live in the United States, there is a tropical paradise practically in your backyard that you can travel to easily. Puerto Rico, as a commonwealth of the United States, is easily accessible from the United States, uses the same currency and can provide you with an amazing place for you to visit with family and friends. The immense beauty of Puerto Rico island is simply breath taking. There are several amazingly beautiful spots that you'd love to see and you won't be surprised that once you get there, they'll leave you awe struck and wanting to return to Puerto Rico again and again.
The Beauty of the Waters
image source
Puerto Rico is known for its white-sand beaches and coral reefs, popular for snorkelling, diving, surfing and sailing. Needless to say, the waters are beautiful when you visit the various beaches throughout Puerto Rico. A truly unique place that you can go to is Bioluminescent Bay, also known as Bio Bay. The trip through the mangroves is relaxing and serene, also a unique experience under the sky itself. Bio Bay is filled with microorganisms that, when the still waters are moved, glow and light up brightly underneath the water. You can take tours out to Bio Bay so you can see just what it looks like for yourself. Guides will take you out in kayaks to the best spots in the bay so that you can slowly go through the water, learn about the organisms and see just how much they glow and the amazing colours they show. While you'll find plenty company (some people may complain it's over crowded) around Bio Bay area, at some other places in Puerto Rico,  you might also have the best stretches of the beach in the world all to yourself.
The Beauty of the Land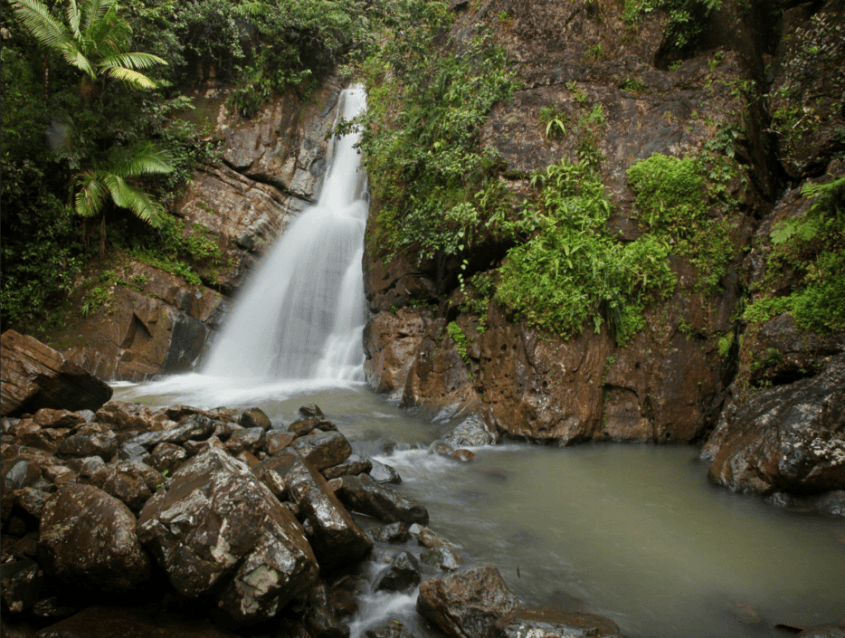 While there is great beauty on the waters, the beauty of the land of Puerto Rico is just as impressive. This is particularly true if you take the time to go over to El Yunque Rainforest which is located in the Sierra de Luquillo Mountains. This would be one of the prettiest rain forests you've ever been and a beautiful place to hike with great views. Those beautiful natural trails and La Mina waterfall are just awesome. Guides can lead you safely through the forest, explain to you what you see and what you can expect and take you to all of the popular spots to explore and snap as many photos as you like. Though some of the hikes can be strenuous for less fit people and the paths could be steep and slippery, I'm pretty sure you'll enjoy every bit of the experience.
Puerto Rico is a historical and fun. Places like Old San Juan or the Bacardi Rum Factory are always fantastic to visit. If you are not totally game to explore the island on your own, check out some tours when you are planning to do some sightseeing in Puerto Rico. Go Tours Puerto Rico is one of the tour companies that offer several different guided tours of areas of the island to make sure you won't miss the best Puerto Rico has to offer during your trip.
With endless waters, amazing history and wildly diverse tropical land, no wonder Puerto Rico is an ideal Caribbean daydream.
What's not to love.
https://www.lakediary.com/wp-content/uploads/2016/07/Screen-Shot-2016-07-20-at-8.15.42-pm.png
710
1025
Yvonne
https://www.lakediary.com/wp-content/uploads/2021/03/lakediary-logo-3.png
Yvonne
2016-07-20 20:17:58
2018-12-17 17:17:07
True Beauty To Be Found In Puerto Rico