5 Steps To Make Each Day Count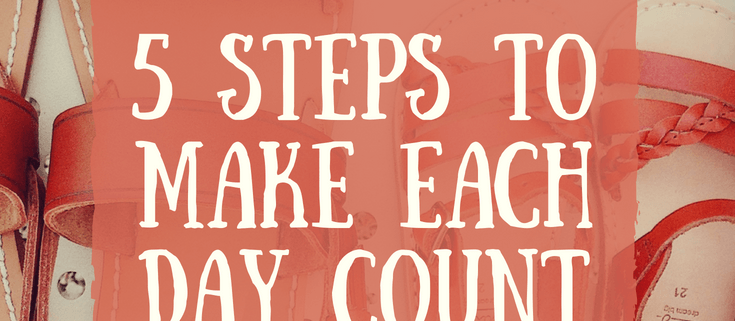 Watching Titanic the first time, I thought it was a beautiful, well made movie. That was it. No emotional impact whatsoever. Fast forward a few years, again I thought it was a well made movie the second time watching it. But this time I shed a few tears. Tears for their beautiful, deep love for each other and the tragic ending; tears from a little pity that love like that doesn't exist in real life. Fast forward another couple of years, as the New Year's bell rang for 2016, Jack Dawson's toast for dinner miraculously kept ringing in my head:" To make each day count."
To Make Each Day Count
I've heard that phrase many times but it never had an impact on me before. Perhaps in my younger years I just assumed, there would be countless days ahead of me forever. Perhaps I finally came to a realisation how much I've wasted my life. In light of having a life with no regret, here's my intention for 2016 and onwards: To make each day count. But how? Life is full of good intentions. How to make this intention a reality? Here are my 5 steps to make each day count.
Ask yourself this question everyday
What I meant by this is to ask yourself every morning before getting out of bed "What can I do today to make my day worthwhile." Then mentally review your day every night before going to sleep, "What did I do today to make today count?" This can all be done while lying in bed.
2. Do one thing that is important to you
There maybe many things on your daily to do list. Pick out one thing that means the most to you and get that done first. If your main goal is to stay healthy and excise everyday is important to you, do your exercise first thing in the morning. You'll feel more accomplished once you've ticked off the most important thing off your to do list.
3. Do what you love
Find joy in life. Have you ever been so busy making a living to a degree that you forgot life is meant to be fun too? I have.
Ask yourself what you enjoy doing, then do it. "Too busy" is not a valid excuse. We should never deprive ourselves from simple pleasures in life. If you are not doing what you love as your job, there are many other little things that can bring joy to your life. It could be as simple as a cold beer in a hot summer day, 2 minutes of day dreaming in your fantasy world or 5 minutes dance in your living room… while nobody is watching.
4. Keep learning
I used to hate studying and thought I'd stop studying after finishing my Master's Degree. But now I know that one can never stop learning.
You can actually learn everywhere. Ponder on simple things. Observe your surroundings. Or if you prefer, have yourself enrolled on a course like an online MBA programs in California. 
The possibilities are endless if you can just keep learning day by day. I want to yell at my younger self: "Have an open mind and be relentlessly curious!" Fortunately it's never too late to learn, just about anything. Yep, old dogs can learn new tricks.
It's true.
5. Have no fear
I'm a natural worrier and lazy. I loath everything that is slightly difficult to me. If something scares me, I'd run away from it immediately and have a snack, or a nap.
They say "Do one thing that scares you everyday." You don't have to. Just remember, when something scares you comes to your way, do not run away. Face your fear head on. You'll miss so many opportunities if you run away, or quit.
Go on, you are much braver than you think you are.
Now back to you.
What is your intention for the new year?
---
---
https://www.lakediary.com/wp-content/uploads/2016/01/curry.png
1102
735
Yvonne
https://www.lakediary.com/wp-content/uploads/2021/03/lakediary-logo-3.png
Yvonne
2016-01-04 12:15:39
2018-08-28 23:05:46
5 Steps To Make Each Day Count